Bumpers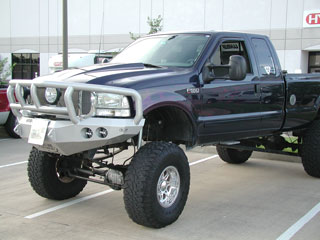 The front and rear bumpers of your pickup truck provide a first line of defense against impacts due to collisions. Replacement bumpers can allow you to enhance the appearance of your truck or SUV and to increase the protective power of these legally required safety components. Original equipment truck bumpers are often constructed of plastic and thin metal and are intended to crumple upon impact. This can sometimes improve safety in a collision; however, it allows serious damage to your pickup even in minor accidents. Replacement bumpers usually feature heavy-duty steel construction that stands up to impacts and protects your vehicle against damage on and off the road.
Types of Bumpers
Truck bumpers are available in a variety of configurations and styles. Along with the obvious division between front and rear bumpers, these essential truck components can be categorized according to their general configuration:
Standard bumpers are generally used as original equipment on both the front and the back of most types of pickups and SUVs. Long and narrow, they provide average protection for your vehicle and represent a no-frills approach to truck bumper replacement.
Step bumpers are ideal for use at the rear of larger pickup trucks and SUVs. The integrated step can also be used to mount towing hitches and towing balls for added utility on the worksite or around the house.
Truck roll pan bumpers are ideal for light trucks and provide added protection against front and rear collisions. Designed to create a smooth, integrated look for the front or rear of your vehicle, roll pans are a sleek alternative to more prominent rear bumpers.
Deep drop cowboy bumpers have largely been replaced by more compact step bumpers and serve the same general purpose in allowing greater access to the cargo area of your pickup truck.
Tube bumpers are most often found on Jeeps and compact pickup trucks and provide a stylish look for your vehicle while increasing its strength and durability in the event of a crash.
Replacement bumpers must meet or exceed federal standards for safety and must be designed to fit your particular truck or SUV.
Standard vs. Steel
Standard bumpers are often designed with plastic or fiberglass over an aluminum core; this allows the bumper to collapse upon impact and absorb a greater degree of the shock to protect passengers and the driver. Steel bumpers, by contrast, typically remain intact in a crash to protect the engine and rear of your pickup from serious collision damage. A steel front end bumper for trucks can serve as an attachment point for truck bars and racks and other protective equipment; as a result, choosing the right front replacement bumper can have a significant effect on your ability to customize your pickup truck to suit your needs.
Finding the right replacement bumpers for your pickup can be challenging. We offer the widest selection of bumpers designed to suit your vehicle and your budget perfectly. Our full lineup of truck bumpers ensures that you find the right fit at the right price for your pickup or SUV. We offer the best in Houston truck accessories and products to improve your truck's appearance and performance on the job and out on the open road.