Wheels & Tires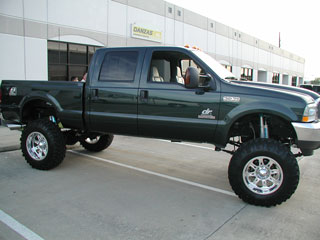 As a pickup owner, you know that the right truck tires and wheels can make a big difference in the way your pickup runs, performs, and looks. Houston truck lift kits and levelers can provide you with added customization choices for changing the profile and height of your truck. Finding the ideal solution for your working truck can also boost its off-road capabilities and can allow you to manage your daily jobs more easily and can help you keep your pickup truck performing at its best. We carry a full line of tires, wheels, and accessories designed to fit your truck and your budget perfectly.
Truck Tires
Finding the right tires for your pickup or SUV can significantly improve its gas mileage and performance. Truck tires are available in a range of types and sizes to suit the driving conditions you are most likely to encounter:
Summer or performance tires are designed to reduce noise and increase responsiveness on dry roads.
Snow tires, as their name suggests, are intended for use on ice and snow. These tires provide superior traction but may generate significant road noise in normal driving conditions.
All-season tires are a compromise between the low noise and improved performance of summer tires and the heavy-duty traction and stability of snow tires. Most pickups come factory-equipped with some version of all-season tires.
Off-road tires have an aggressive tread pattern and are ideal for vehicles that spend the majority of their time off of paved roads.
Most experts recommend buying a set of new tires at the same time. If your budget only allows for two, the replacements should closely match the tires you already have on your truck and should be installed on the rear axle for optimal results. Following the recommended schedule for tire rotation can significantly increase the longevity of your tires and can allow for even wear and improved handling if all tires are the same size and tread pattern.
Wheels
Choosing the right wheels for your pickup can significantly enhance its looks and help to ensure optimal performance on the road. The width of the rim of the wheel determines how wide the tires on your truck can be; as a result, the size and width of wheels and rims are critical factors in determining the type and size of tires that will fit on your truck. If you are considering installing a lift kit to allow the use of larger wheels and tires, you may want to perform the lift kit installation first to ensure adequate clearance for your new wheels and tires.
Wheel Locks
If security for your truck's wheels and tires is a concern, wheel locks can provide added protection against theft. These lug nuts are specially designed to require a specific tool for removal. Since hundreds of wheel lock combinations are available on the market, the odds that a thief will have the correct tools to remove your particular wheel locks are significantly small. Since the specific set of wheel lock keys are required for changing a tire on the road, they are usually kept inside your pickup's cab. As a result, wheel locks should usually be combined with a truck alarm system or other security measure for full protection of your pickup and its contents.
We offer an extensive selection of Houston truck accessories to include rims, tires, wheels, and Houston truck bed liners. We make it easy for you to customize your pickup or SUV for standout performance at a price you can afford.