Covers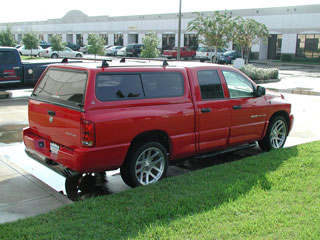 Installing covers over valuable components of your pickup can protect these items from damage and normal wear and tear, extending their longevity to a considerable degree. We offer a full range of Houston truck accessories that includes the following types of covers:
Tonneau bed covers
Side mirror covers
Door handle covers
Seat covers
Steering wheel covers
These items can enhance the appearance of your pickup truck while protecting it from the worst effects of wind, weather, and everyday use.
Tonneau Bed Covers
Ideal for protecting valuable cargo from rain and inclement weather conditions, Tonneau bed covers are also useful in providing an extra level of security for the contents of your truck. They can be combined with lockable storage boxes and other organizational equipment to allow easy identification and access to the items you use most frequently. Tonneau truck covers are available in a wide range of configurations and styles to fit your pickup bed and to shield its contents from rain, snow, hail, and other damaging natural elements.
Side Mirror Covers
Rain, road debris, and wind can have a detrimental effect on your truck's side mirrors over time. Mirror covers are an ideal way to add style to your pickup while protecting these visibility components from damage on the open road. These covers are available in a variety of styles:
Unpainted primed mirror covers can be painted to match your pickup's current exterior paint color
Pre-painted models are available in a wide range of hues
White and black plastic mirror covers can provide added style and protection
Chrome-coated mirror covers offer exceptional shine for your pickup's exterior
Customized mirror covers celebrating your favorite sports team are also available and can provide added personalization options for you.
Door Handle Covers
Primarily used for cosmetic enhancement of your pickup truck, door handle covers are designed to stick directly to your existing handles to create a new look for your doors. Most door handle covers consist of chrome-plated stainless steel, but chrome and plastic are also used to construct these components. Be sure to check keyholes and keypad locations and to purchase a door handle cover that fits your particular make and model.
Seat Covers
Personalizing the interior of your truck can ensure greater comfort for you and your passengers. Seat covers can protect your upholstery and provide a fresh new look for your cab. Bucket seats and bench-style seating can be enhanced with the addition of custom seat covers in a wide range of designs, colors, and materials. Heated seat covers are also available and can be powered through your truck's cigarette lighter or 12-volt DC outlet.
Steering Wheel Covers
For even more customization options, you can upgrade your interior décor with our exclusive lineup of steering wheel covers. We offer an outstanding selection of durable and attractive steering wheel covers that provide added comfort while on the road and a touch of style for your pickup cab. Choose from leather, vinyl, and cloth covers for the perfect finishing touch to your truck's interior.
If you are looking for the best selection and best prices on truck accessories and Houston truck lift kits, we can deliver outstanding deals on quality equipment for your pickup truck to suit your personal style.