Security & Safety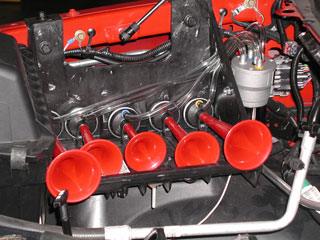 Your pickup truck is vital to your everyday routine. Keeping it safe from theft and loss should be an essential part of your maintenance and upkeep plan. We can help with some of the most innovative truck security systems on the market. Our full line of security and safety equipment ensures that you and your pickup truck are protected at home, at work, and on the open road. Truck alarm systems, theft protection devices, and visibility components can provide you with valuable peace of mind and added safety throughout your busy day.
Truck Alarms
Designed to alert you when your pickup or SUV is tampered with or when someone is attempting to force entry into the passenger cabin or covered bed, truck alarm systems are a must-have for urban areas and isolated worksites. Sensors at windows, doors, and other areas of your truck allow complete protection even when you cannot be there. Some truck alarms consist of a simple alerting tone that sounds when someone tries to gain access to the interior of your pickup; others are capable of sending messages to your remote control fob to inform you of theft attempts. Others can immobilize your engine to prevent thieves from starting and driving your pickup truck or SUV once they gain entry to the passenger cabin.
Theft Protection Systems
We carry a full line of Jimmi Jammer products to offer an added line of defense for your pickup truck. Jimmi Jammer's door plates are designed to fit over the existing door handles of your pickup to prevent them from being pried away from your truck. The Punch Plug replaces vulnerable exterior locks and removes that temptation from thieves, allowing you to enter your vehicle using your programmed remote fob. Jimmi Jammer's Lock Cap serves a similar function; however, it covers the current lock rather than replacing it outright. The company also produces and sells devices to protect your tailgate against theft and to prevent thieves from easily opening your trunk and tampering with or stealing vital engine components from your truck. Specialized security systems and theft protection devices are the best way to protect your truck and its contents from would-be thieves and vandals.
Visibility Systems
Rear view mirrors are a vital element in your truck's visibility system, especially when parking or backing out from your driveway. These mirrors can be augmented with rear view cameras that offer 360-degree visibility and eliminate blind spots to the rear of your pickup truck. Rear view cameras can provide even greater visibility and generally feature a heads-up display to ensure that you see everything going on behind your pickup. This can prevent collisions with oncoming vehicles and provide added guidance during parking and backing. Back up cameras also offer added safety for pedestrians and can help you spot children at play more quickly. By installing these visibility systems, you can ensure a greater degree of safety when operating your pickup truck or SUV.
We carry a wide array of Houston truck accessories designed specifically for your pickup. Our truck alarms, theft prevention systems, and enhanced visibility systems allow you to enjoy valuable peace of mind on the road, on the worksite, and in your own driveway.