Truck Parts & Accessories: Tailgates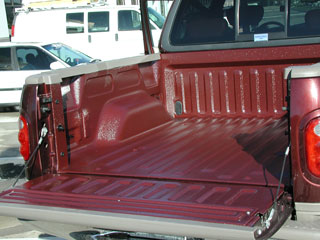 Your pickup's tailgate performs a number of duties during the course of an average week. From football tailgate parties on the weekend to cargo storage and loading throughout the week, you depend on your tailgate to stand up to steady use and repeated impacts. As the leading source for Houston truck bed liners and tailgate accessories, we offer a full lineup of the following products:
Tailgate handles
Tailgate locks
Tailgate seals
5th wheel tailgates
Tailgate seats
Tailgate guards
Our outstanding selection ensures that you can find the right accessories for your make and model of pickup truck.
Tailgate Handles and Locks
Replacement tailgate handles can provide added durability and access for your pickup bed or can restore proper function to broken or malfunctioning original equipment handles. Stainless steel and chrome-plated tailgate handles and covers can provide added style and functionality for your tailgate and can deliver added security for your valuable cargo. When combined with truck bed covers, tailgate locks and locking handle covers can provide exceptional protection for the contents of your truck and can ensure greater longevity for your tailgate hardware.
Tailgate Seals
Weatherproofing your tailgate can prevent damage to the contents of your truck by blocking rain and moisture from entering your covered truck bed. Tailgate seals are available in custom-fitted designs created specifically for your pickup truck's make and model or in universal models that can be cut to fit your tailgate's exact proportions. Most tailgate seals feature an adhesive backing to provide secure attachment and may be constructed of acrylic foam, rubber, or vinyl. Thicker seals can also reduce rattling and noise produced by loose-fitting tailgates on the road.
5th Wheel Tailgates
Designed to provide easy access to your trailer hitch, 5th wheel tailgates are designed to fit your pickup precisely. Some feature grid or mesh construction to allow air to flow freely through openings, reducing drag and wind resistance on the road. Solid stainless steel construction provides for improved durability even with frequent use. By incorporating these specialized tailgates as part of your truck equipment, you can enjoy added towing power without interference from your original solid tailgate design.
Tailgate Seats
Tailgate seats, seat backs, and couches are an ideal solution for enjoying football games, other sporting events and nights at the drive-in comfortably. Designed to attach directly to your tailgate, these convenient seating arrangements are typically constructed of aluminum or steel and feature cushions in a variety of thicknesses and materials. Once installed, setup is easy and takes only a few minutes, allowing you to enjoy the great outdoors from the comfort of your own truck.
Tailgate Guards
Protecting the exposed edges at the top and bottom of your tailgate can reduce wear and tear on this vital component of your truck and can lessen the chances of rust or damage to your pickup's paint. Tailgate guards are available in most common sizes and can be purchased in cut-to-fit rolls for added customization options.
We deliver the best and most comprehensive selection of Houston truck accessories to allow you to customize your pickup's appearance and enhance its utility. Our lineup of quality products including Houston truck bars and racks are available at reasonable prices ensuring that you get the best for less.