Truck Accessories: Weather Protection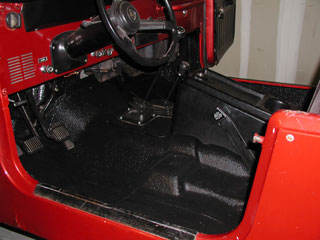 Finding the right Houston truck accessories to outfit your pickup can be a challenge, especially if you are shopping on a budget. We can help with a full array of choices designed for your exact make and model of pickup truck or SUV. Whether you are looking for bug shields, rain guards, floor liners, or Houston truck bed liners, we have the right solutions for your truck and your wallet. We carry the best products at the best prices to help you enjoy your pickup truck for many years to come.
Truck Weather Protection
Protecting the interior of your truck against snow, mud, and rain from your shoes or boots can help you maintain the value of your pickup and ensure that it stays clean and neat inside. Floor mats and floor liners are designed specifically to fit your make and model of truck and offer nonslip security as well as protection for your interior carpeting. Floor mats may be constructed of thick and durable carpeting that matches the interior of your pickup and can be brushed and vacuumed clean when needed; alternatively, vinyl and rubber floor mats are available that allow for even easier cleanup. We can provide you with an exceptional selection of truck weather protection designed to fit your pickup and to protect its interior against damage from rain, sleet, snow, and mud.
Bed Mats
Most truck bed mats are custom fitted to provide complete coverage. Rubber and vinyl are among the most popular materials and are usually vented or ribbed to promote water drainage. Underneath, they may feature raised borders or a rough, knobby surface to prevent water from becoming trapped and creating the potential for rust. Tailgate mats can often be purchased to further protect your pickup truck's bed against damage.
Rain Guards and Window Deflectors
When driving in heavy rain or snowy conditions, rain guards and window deflecting accessories can help you stay dry and comfortable even with your window open. Rain guards fit along the top of your driver's side and passenger windows to shield you against incoming rain from overhead. In a similar way, window deflectors guide rain and wind around your pickup to create a slipstream of air and moisture that prevents water from entering your cab and ensures that you get plenty of fresh air without exposing you to drenching rain.
Bug Shields
Cleaning bugs and road debris from the grill of your pickup can be time-consuming and unpleasant. Bug shields provide a measure of protection against bugs and other unwanted detritus on your grill and can be easily cleaned with soap and water, helping you to keep your pickup looking great every mile of the way.
Mud Flaps
Mud flaps and splash guards are a must if you frequently drive on gravel or dirt roads. Even in urban environments, these Houston truck accessories can provide added style for your pickup and can help prevent tar and other road debris from damaging the finish of your truck. Front and rear mud flaps are designed to fit your truck's precise dimensions and are a low-cost way to improve the looks of your pickup.
We offer a full line of affordable weather guards, mud flaps, bug shields, and other truck accessories to create the right look and the right protection for your pickup truck. Our extensive selection ensures that you get the best products at outstanding prices when customizing your truck or SUV.