Performance Parts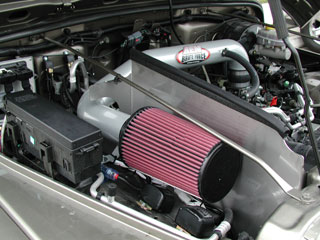 Enhancing the performance of your truck can provide added power for towing and hauling and can increase the utility of your pickup or SUV. The right truck performance parts can have a significant impact on acceleration, fuel mix, and heat management inside the engine. Performance parts are available in a number of categories that include the following:
Exhaust system kits
Air intake systems and modifications, including cold air intakes
Programmers, chips, and tuners
Performance batteries
We offer a full range of performance-enhancing accessories to help you customize your truck or SUV under the hood where it matters most.
Exhaust System Kits
Most exhaust system kits are designed to enhance the sound of your truck on the road but also offer increased performance. Dual exhaust pipes are an ideal way to create a sportier look for your pickup or SUV but some vehicle configurations will not accommodate dual exhaust kits. Performance exhaust systems use advanced design techniques to smooth out the exhaust pipes and reduce drag on the gases leaving the engine. These types of systems help to reduce back pressure. Stainless steel pipes offer the best longevity in most cases. Choosing a muffler and exhaust system specifically configured for your truck's make and model can ensure the proper fit and the maximum benefit from these exhaust systems.
Air Intake Systems
Designed to increase the performance of your truck by introducing a richer oxygen mix into the engine, cold air intake accessories can increase horsepower, acceleration, and performance for most truck systems. Cold air is denser than warm or hot air and can contain more oxygen in the same amount of space. Engine ignition requires three things:
By increasing the oxygen available to your engine, you can boost its ability to burn fuel more efficiently and to produce added horsepower in demanding working conditions. By installing a cold air filter in conjunction with these advanced systems, you can protect your engine against particles, debris, and moisture while enhancing its performance on the open road.
Programmers, Chips, and Tuners
Reprogramming your truck's on-board computer system can produce outstanding results in the following areas:
Fuel economy
Engine performance, including horsepower and torque
Increased towing capacity
Improved temperature control for high performance engines
Enhanced access to diagnostic codes and tools
Tuners are generally used to modify the limits on the existing computer system programming to allow for greater speed and to boost the RPM limit. Most programmers actually rewrite the existing code to create a new operating system for the on-board computing functions of your pickup. Both tuners and programmers, however, are based on computer chips that contain the core code necessary to ensure optimal performance for your vehicle.
First Interstate Batteries
The right battery can be critical to achieving the best performance from your truck or SUV. First Interstate Batteries are well known for their staying power and are an outstanding choice for your vehicle. We are your one-stop source for these powerful batteries and can help you buy a First Interstate Battery that suits both your pickup truck and the driving challenges of your typical working day.
We carry a full lineup of Houston truck accessories that includes bull bars, truck bed liners, and performance enhancing equipment to help your pickup achieve its full potential. By customizing your vehicle, you can enjoy increased power and performance while ensuring optimal gas mileage at work and at play.