Truck Lift & Leveling Kits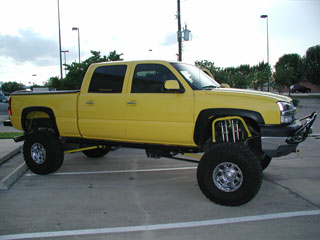 Lift kits can provide added style and clearance for your pickup truck and can allow you to navigate your worksite more easily and effectively. Lift kits are available in two general categories:
Body lift kits use spacers to raise the body of the vehicle above its frame for added tire clearance and an improved look for your pickup or SUV.
Suspension lift kits, by contrast, lift the entire frame of your truck to enhance performance on rough and uneven terrain.
A number of factors should be considered when installing any type of lift kit or oversized tires on your pickup truck:
Driving on larger tires than those recommended for your specific truck may throw off your odometer and speedometer readings. Additionally, your speedometer gauge may not read accurately after installing oversized tires.
Lift kits of over two inches can significantly change your truck's center of gravity and may require adjustments in your driving style to accommodate the difference.
Depending on the lift kit chosen, these accessories can add considerably to the weight of your pickup or SUV and may reduce fuel economy or affect braking or maneuverability.
Some areas may have legal restrictions on the sizes and types of lift kits allowable on public thoroughfares.
Installation may be more difficult for suspension lift kits than for comparable body lift truck kits.
Keeping these factors in mind when choosing your lift kit will give you the best possible results.
Body Lift Kits
The primary components of a body lift kit include spacers to lift the body of your pickup, brackets that help in leveling, and alignment and gap guards that cover the area lifted. These cosmetic accessories can allow the use of larger tires and can create a higher profile for your pickup for better visibility on the road.
Suspension Lift Kits
The installation process for a suspension lift kit is significantly more complicated than that for a body lift kit. These truck kits typically replace the shocks and springs present in your pickup and offer improved durability and a much higher profile both on and off the road. The increased height achieved with suspension lifts can allow you to see farther and may improve your response time for road hazards and obstacles on the road ahead.
Leveling Kits
Maintaining a level profile for your truck is critical for safety and stability on the road. Leveling kits can be used in combination with lift kits or alone to balance your pickup from front and back and may allow you to use larger tires than those originally installed on your pickup at the factory. Level kit packages are usually equipped with torsion bar keys to allow expert adjustment and to provide greater ground clearance for your pickup or SUV.
Our full line of Houston truck lift kits can provide a higher profile and an enhanced silhouette for your hard-working pickup. When combined with our other Houston truck accessories, these lift kits can change the whole look of your truck and can provide added clearance for rocky and uneven terrain. We offer the best selection at the best prices to allow you to customize your truck for optimal utility and standout appearance on the job and out on the open road.