Front End Guards & Grills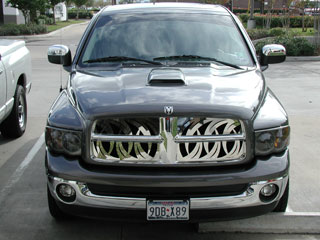 Originally designed to protect SUVs and pickup trucks from damage due to collisions with animals in the roadway, bull bars and push bars are primarily used to protect the grill and radiator from damage due to impact. They can also be used to mount winches on the front of the pickup to provide added utility for a variety of work tasks. Billet grills are decorative inserts that can create a custom look for your pickup or SUV. Our full line of Houston truck accessories are the ideal solution for protecting your vehicle and enhancing its appearance for everyday use.
Bull Bars
These tough and durable pickup truck and utility vehicle accessories can provide valuable protection for the engine and front end of your vehicle in a collision. Bull bars are generally constructed of steel or stainless steel and are available in polished silver, chrome, and glossy or matte black shades to complement most pickup trucks. Most bull bars consist of a thick bar connected to a heavy-duty plate that protects the radiator grill and the underside of the engine. Three-inch and four-inch diameter bars are standard throughout most of the industry to make it easier to add various lights and winches to the front end of your vehicle.
Push Bars
Although the terms bull bar and push bar are often used interchangeably, bull bars are generally installed in the middle front of the pickup while push bars wrap around the entire front of the truck for added safety. Some push bars are modular and allow for customized installation and optimized fit. In some cases, push bars incorporate the functionality of larger-diameter bull bars to allow the installation of lights or other utility equipment at the front of the pickup. Added protection for headlights and front end trim can ensure a safer ride and reduced damage from road and off road debris.
Lights and Winches
Most bull bars include holes designed specifically for the installation of fog lights and other lighting for your pickup truck. This can allow added visibility and can improve the appearance of your vehicle to a considerable degree. Winches can also be installed on some bull bars to provide added protection against sticky situations in mud or snow. Some winches are rated for more than eight tons of sustained pulling power, making them an all-around solution for construction and landscaping work.
Billet Grills
Often decorative in appearance, billet grills generally cover the radiator and offer some protection for the grill against road debris and brush. They are sometimes composed of fine mesh that can also prevent insects from becoming embedded in the radiator grill and can be easily washed to keep your pickup truck looking and running its best. Billet grills are usually customized for a specific make, model, and year and can enhance the appearance of your pickup or SUV while increasing front end protection for your engine.
We carry a full line of billet grills, bull bars, lights, winches and other Houston truck accessories designed to improve utility and appearance. In combination with our Houston truck bed liners, lift kits, and other useful and durable accessories, our lineup of front end guards can help you create the right look at the right price for your pickup or SUV.