Truck Accessories | Storage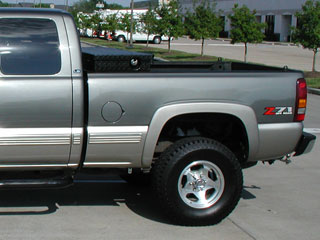 The right truck storage solutions can greatly increase the usefulness of your pickup truck and can allow for greater organization of often-used tools and equipment. Tool boxes are one of the most popular types of truck storage containers and can be constructed from a wide range of materials. Underseat storage is a practical way to optimize space inside the passenger cabin and is ideal for items that do best in climate-controlled conditions. Ladder racks and other access options can make it even easier to customize your pickup truck for maximum utility in the modern working environment.
Truck Tool Boxes
Most tool boxes are designed to fit into the front part of the truck bed just under the rear windows of the passenger compartment. This allows for hauling payloads in the rear half of the pickup truck and loading through the tailgate for added convenience. Tool boxes are available in a wide range of styles and materials to suit your particular set of needs:
Lockable boxes and self-locking mechanisms provide added security
Solid steel boxes can stand up to impacts and wear more effectively
Aluminum tool boxes are a cost-effective and attractive addition to your pickup
Composite tool boxes
Smaller side-mount tool boxes can augment larger tool box installations or can be used as stand-alone storage for your truck
Each of these materials and configurations has certain advantages. Understanding the different types of tool boxes can help you make the right choice for your truck storage needs.
Lockable truck boxes typically have a built-in hasp that can be used with a padlock or combination lock of your choice. This allows you greater control over the locking mechanism.
Self-locking boxes offer added convenience and a built-in locking mechanism; however, if the lock stops functioning, you may be stuck with the task of replacing the entire box.
Solid steel and stainless steel tool boxes offer a superior mix of utility and appearance. Rugged and durable, a stainless tool box is an ideal choice for hard-working trucks and their owners.
Aluminum tool boxes are the economical and weight reduction choice for truck owners; however, they lack the longevity and strength of comparable steel boxes but they will never rust.
Composite and plastic tool boxes can stand up to dents and impacts more effectively than most other types of storage thanks to the resilience of plastics, vinyl, and polymer compounds used to construct these containers.
Underseat storage containers are available in an array of sizes designed to fit your make and model of vehicle perfectly. They are perfect for important documents and other valuable cargo carrying needs.
Side-mounted storage boxes and taller truck bed storage solutions often require the installation of ladder racks to gain full access to these areas.
We carry an extensive selection of top-quality truck tool boxes to suit your storage needs and your budget. From solid steel strongboxes to carry your everyday tools and equipment to hidden underseat storage for smaller items of value, we offer outstanding truck storage accessories at the most competitive prices anywhere. Check out our full selection of Houston truck accessories, truck bed liners, lift kits, bars and racks to customize and enhance your pickups looks and utility today.