Hitches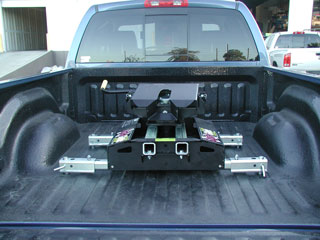 Towing and hauling are two of the primary functions of work dedicated full-size pickup trucks. These hard-working vehicles are designed specifically to manage the heaviest towing jobs and payloads. The right trailer hitch can provide the working power you need to manage jobs on the worksite and projects around the house. Truck hitches are divided into four basic categories based on the weight they are rated to pull:
Class I hitches are considered light duty and can tow up to 2,000 pounds
Class II hitches can tow up to 3,500 pounds
Class III tow hitches are rated for up to 5,000 pounds
Class IV hitches are capable of towing up to 10,000 pounds
To tow larger loads, pickup trucks will generally require a 5th wheel hitch and dual rear wheels. Gooseneck hitch arrangements look similar to 5th wheel hitches but connect in a different way; they are capable of towing the same weights, but depend on how your pickup is equipped and rated for those loads.
Making the Connections
Most U.S. and Canadian trailer hitches use ball mounts to connect the pickup truck to the trailer being towed. The sizes vary depending upon the class and type of trailer hitch being used. Receiver hitches slip over a tow ball that is slightly smaller than the opening in the trailer hitch:
Class I and II receiver hitches usually feature an opening of 1.25 inches.
Class III and IV receiver hitches are generally equipped with 2-inch openings; some receiver-type hitches designed for heavy-duty use incorporate 2.5-inch openings.
Ball mounts are usually permanently attached to the pickup and provide a solid point of attachment for the trailer hitch. Some pickup trucks feature mounts for up to three balls, allowing you to haul oversized loads off-center to prevent the load from intruding into the lanes of oncoming traffic. Drawbar trailer hitches can also be used to attach loads to your pickup; these connections usually include the following components:
A drawbar that is bolted directly to the pickup frame
Pins and clips to secure the trailer to the drawbar
Installing a custom fit rear mount hitch can provide solid towing power for lighter loads.
Frame vs. Bumper
Heavy-duty trailer hitches are usually secured to the frame of the pickup for optimal safety and control over towed loads. Light-duty Class I and II hitches can sometimes be attached to the rear bumper to allow mounting of bike racks and towing of motorcycles and small trailers. Observing the weight limits for both bumper-mounted and frame-mounted tow hitches is essential to maintain safety on the road.
Towing Accessories
Hitch locks are an inexpensive way to provide added safety during the towing process. These devices augment the existing pins and clips or ball mounts that typically connect the load to your pickup and can be a valuable investment in securing trailers on the road. Hitch covers are available in a wide range of colors, metallic finishes, and sizes to keep trailer hitches clean and to enhance the appearance of your pickup.
We offer a full line of ball mounts, trailer hitches, and other Houston truck accessories to address all of your towing requirements. By customizing your pickup or SUV with our top-quality equipment packages, you can manage your work and personal towing needs more quickly and safely.